Our Promise
Backstage access, boundless energy, an insider's knowledge — the ultimate way to experience major Pro Tour races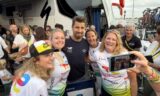 We provide an experience like no other and one you will never forget. Our passionate and knowledgable Spectator team are dedicated to providing you with a truly exceptional time at major Pro Tour bike races.
What we Live By
1
Insider Access
Our partnership with the race organizers, teams, TDF celebs and our personal connections provide the ultimate backstage access.
What we Live By
2
Global and Local Team
Our native English guide lives in France (previously Andorra, Spain & Italy) and has worked in tens of resorts all over France. Her extensive network of contacts and intimate knowledge is invaluable, in both securing accommodations, planning and executing trips. The assistant guides also reside in the French Alps and our multi lingual office team are based in Europe & the USA.
What we Live By
3
Boundless Energy and Endless Fun
The infectious personality of our guides add an extra dimension to an unrivalled VIP experience. Simply the most fun you can have at a bike race!
What we Live By
4
Stars in Your Eyes
If star spotting is on your agenda, Jacinta is personal friends with many commentators, teams and managers. She can open doors many others cannot.
What we Live By
5
A Passion for Pro-Cycling
Our team are knowledgeable cycling fans with an undying enthusiasm for the sport. Their knowledge of how the tours & teams operate is unparalleled. They will have cycled all the major cols before the tour.
THE ULTIMATE ACCOLADE
We're the number one Official Tour de France Premium Tour Operator
When we say VIP access we mean it. Our trips have earned us the status of number one Official Premium Tour Operator to the greatest race on earth. From the VIP Departure and Arrival villages, to our private hospitality marquees on the roadside, to our unrivaled insider access, Thomson Bike Tours is recognized as the best way to experience the Tour de France.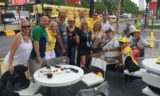 What we believe
We exist to introduce cycling fans, of all ages and backgrounds, to the excitement of experiencing the greatest races. To us, the best experiences come from maximizing the potential of your trip. We obsess with the needs of our guests, using our expertise to create Spectator trips that are unforgettable.
We Deliver the Dream
Our aim is that you not only see the race, but that you go home with such a behind-the-scenes understanding, that you will never watch it in the same way again. We mix cycling with local culture. Our guides live in France and will introduce you to amazing off-race experiences. Their passion for life means it's in their nature to share the best possible cycling adventures with you, with plenty of fun along the way. From meticulous planning around races, to incredible guides and the best logistics in the business.

Unforgettable races, indelible memories and abiding friendship.