VIP Espace Rive Gauche
Join us in our Private Lounge and Terrace opposite the Finish Line. Open bar with champagne, wine, spirits etc and gourmet food served throughout the afternoon and evening. The ultimate Tour de France Paris Experience.
Date: Sunday July 23, 2023
Location "9" on the Champs-Elysées map below.
Details
Duration
1 days / 0 nights
Live Race Viewing
---
---
I have always been a huge fan of cycling and been a rider all of my life. In particular, I love the Tour de France. ...
Franklin Swanson, USA — 2019
The trip was awesome. Every day exceeded my expectations. Getting in so close to all the action and the personalities brought a new dimension to ...
stephan muller, South Africa — 2017
The overall trip far exceeded our expectations! An experience of a lifetime!
Frank Barnard, USA — 2022
See more reviews
---
Featured Article
Wednesday November 11, 2020
Join us in our Private Lounge and Terrace opposite the Finish Line. Open bar with champagne, wine, spirits etc and gourmet food served throughout the afternoon and evening. The ultimate Tour de France Paris Experience. Date: Sunday July 23, 2023 Location "9" on the Champs-Elysées map below. Countries: France
Read the story
See all stories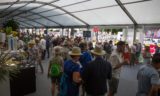 ---
See journal posts