Le Grand Palais Tribune
Situated directly on the Champs-Elysées, just 200m from the Finish Line, the Grand Palais Grandstand offers great viewing of the Final Stage. Reserved seats and Open bar with beer and soft drinks included.
Date: Sunday July 23, 2023
Location "4" on the Champs-Elysées map below
Details
Duration
1 days / 0 nights
Live Race Viewing
---
---
I had a dream vacation. Jacinta and Martin were the best!!. They were always checking and making sure we were always having a fabulous time. ...
Marlene Anderson Guba, USA — 2022
I have always been a huge fan of cycling and been a rider all of my life. In particular, I love the Tour de France. ...
Franklin Swanson, USA — 2019
Tour de France VIP Spectator Tour - Pyrenees
A fantastic trip, amazing to experience the Tour so close up and feel part of the action. Jacinta and Martin were brilliant, completely focussed on ...
Sean Gorman, USA — 2023
See more reviews
---
Featured Article
Wednesday July 29, 2020
Situated directly on the Champs-Elysées, just 200m from the Finish Line, the Grand Palais Grandstand offers great viewing of the Final Stage. Reserved seats and Open bar with beer and soft drinks included. Date: Sunday July 23, 2023 Location "4" on the Champs-Elysées map below Countries: France
Read the story
See all stories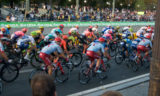 ---
See journal posts